Blog | Backbone App
Tech Packs: Static Data vs. Dynamic Data
By: Team Backbone | Jan. 11th, 2022
At a Glance:
Backbone Beats Manual Tech Pack Creation
Is your brand still creating tech packs in Illustrator or Excel? Don't panic; you're not alone. For the longest time, both Illustrator and Excel were the tried-and-true solutions for tech pack creation in the fashion and apparel industry — and rightfully so. 
These programs have always been dependable, feature-forward tools used to manage product design and development. However, like any esteemed software, we find caveats to working in these programs as technology evolves.
The fact of the matter is, creating tech packs in these manual platforms limits your brand to operate using static data.
What is Static Data?
Static data refers to a fixed data set or data that does not update after being recorded. Working in spreadsheets results in static data because revisions need to be made manually for the specifications to retain their integrity. It can be difficult to organize and communicate changes when operating static programs, and designers who rely solely on Illustrator or Excel will often lose valuable time reeling from a high volume of data loss, delays, and duplication. Product information is divided into far too many tabs to count, email communication is sporadic, material lists flood local servers, and teams spend days copy-pasting product information to get it right. 
Think of static data like your old VCR. We all have fond memories racing home from the video store with a copy of Terminator 2, buttered popcorn, and a pack of Twizzlers. While VHS tapes were once the preferred method to watch our favorite films, technology has altered and enhanced the movie-watching experience. Enjoying a movie the old-fashioned way isn't illicit by any means (you don't have to worry about rewinding the tape and sending it back), but society has realized that this method is slow and outdated compared to the live streaming options available today. 
Manual development tools are the exact same way. There's nothing wrong with committing heavily to Illustrator or Excel, but teams may find themselves longing for a more advanced solution to collaborate, streamline design workflows, and build products faster. 
Let's take a real-life example. Supplier shortages may force your team to settle for solid poly buttons instead of troca shell buttons — oh, the humanity! If developers work in Excel or Illustrator, they have to update product details manually on the Bill of Materials (BOM), tech packs, and anywhere else required to track item costs or component utilization.
In Backbone PLM, updating these product specs in the component level will automatically translate changes everywhere they are needed. Without manually uploading new versions, each component can be reused or edited in far less time than static development solutions.
Ultimately, your company's goal is to save time, increase speed to market, and drive revenue. Backbone's dynamic, cloud-based system provides visibility and clarity into all product-related data, so designers and developers can make products smarter, faster, and at scale. Backbone achieves this solution through one simple concept — dynamic data.
Related Article: PLM vs ERP
What is Dynamic Data?
Whereas manual spreadsheets provide static data that remains the same after it is collected, Backbone provides dynamic data that continually changes throughout the product development cycle. Everything in Backbone's system is interconnected, which means product insights such as size specs, component libraries, BOMs, line sheet reports, and entry-level summary data automatically populate throughout the system.
If spreadsheets are the VCR of product development, then Backbone is your favorite streaming app. Grab the remote and scroll through countless TV shows and movies tailored to your unique interests, and watch the system automatically update with the latest content every time you log in. Backbone operates similarly for designers and developers to organize and filter the exact information they need to see their products come to life. With the click of a button, product specifications update everywhere data points are connected, making it much easier to create templates and build or share tech packs with factories, your team members, or anyone else in minutes. 
Built-in repositories connected to dynamic data allow brands to create components and utilize custom fields in numerous ways. Product developers can choose to bulk upload, search supplier names, add variants, and drill down specific component attributes. Once component-level information is uploaded into the system, it can be viewed in an Excel-type format that requires no copy-pasting, saving valuable time tracking leads and approvals. 
Why Dynamic Data Is Better
Dynamic data is far more flexible than static data. Unlike a traditional Excel document, Backbone's visual approach provides a bird's-eye view of each stage in the product development process. It's much more user-friendly to navigate the different sections of a tech pack and make edits when needed. Product sketches, construction details, callouts, colorways, size specs, and BOMs are visible in a single display, acting as the blueprint needed to build new styles and garner data-driven results. 
Backbone's approach to tech pack creation is all about streamlining design and development needs to acquire accurate quotes from suppliers, reduce sampling stages, and get products to market faster. Well-organized tech packs are used for quality control for teams to establish clear communication and kick off an efficient pre-production process. 
Through a series of interconnected libraries, Backbone allows brands to build tech packs with greater speed, efficiency, and ease than manual devices. Because all product specs link through Backbone's system, users can intuitively build products without the friction of static documents. Unfortunately, 20 percent of production time is wasted searching for product information; therefore, time is critical to the success of your product development and production. 
Thankfully, one of Backbone's greatest attributes is time savings — allowing teams to reduce manual data entry by 40 percent, save an average of eight hours per tech pack, and usher new products from design to development 44 percent faster than using static data tools. 
Backbone's centralized libraries put dynamic data within reach for designers to save time uploading sketch files, sharing feedback, and developing new product ranges. When teams are free to tap into their full creative potential and work at digital speed, it allows your organization to make more informed decisions on material costs, design changes, and timelines to safeguard revenue and cut down on waste.
Related Article: Tech Packs Tips & Tricks
Backbone Beats Manual Tech Pack Creation 

Now that you know what separates static data vs dynamic data; let's unravel this concept further and discuss how Backbone outmatches manual tech pack creation.
Summary Data & Custom Fields 
In typical static programs like Illustrator or Excel, summary data lives on the summary pages of each product, which are used to create prototypes. However, if that data needs to be rolled up into a report to summarize the entire product range, a new static document would have to be built from scratch. This process proves to be overly time-consuming, inefficient, and error-prone for those involved — and who has time to do double the work?
In Backbone, dynamic data helps consolidate reports in a fraction of the time and with far fewer clicks. For example, brands can create a 100-product report in as little as two minutes compared to two hours in Excel. Just imagine what your team could do with two extra hours in the day! 
Images 
Managing a tech pack in Illustrator or Excel requires the construction details as one-off annotations. If you want to reuse information, teams are forced to rewrite the product detail or copy-paste, which isn't always an effortless process to manage. Feedback, revisions, and Points of Measure (POMs) are commonly written differently throughout an organization, leading to discrepant translations and inconsistent sampling, both of which slow the development cycle and decrease speed to market.
In Backbone, product designers drag images into the system and use dynamic interactions to access the Construction Detail library. This library houses the materials and construction details needed to create a product, such as color palettes, buttons, stitching, seams, finishing, elasticities, reinforcements, zippers, and so on. Start by typing the first few characters of the desired detail until it auto-generates, then select the second appropriate detail from the drop-down menu connected to your library. Following these steps allow users to instantly populate construction details displayed in an organized and digestible format along the right-hand side of the sketch. 
The Image Annotator also allows teams to link to the Component Library similarly to the Construction Detail marker. This connection leverages dynamic component data to populate BOMs without leaving the sketch. Teams can drive engagement by enabling callouts on images that dynamically populate your BOM and collect feedback and revisions all in one place. When designers collaborate under one system to visualize changes to dimensions, sizes, and features, products will reach the sample stage faster. 
Taking the time to establish a thorough feedback and revision process is a crucial step to limit errors and display product data in a way your suppliers will understand. Backbone allows teams to leave comments from anywhere, upload images, and collaborate with internal and external partners in real-time to make changes or keep track of approvals. Instead of lengthy email exchanges, compare and modify measurement requests against your factory's measurements in Backbone before deciding to approve the product or send it back for an additional sample.
Tech packs should include a visual representation of your product for internal users to access built-in summaries and review products by season, collection, and type, which static tools cannot accomplish.
Bill Of Materials
Creating the Bill of Materials in Excel is challenging to execute and organize. Analyzing the data between component callouts and the BOM is difficult to keep current, but this is critical to the execution of the prototype. The maintenance and integrity of these static documents can often be the difference between a good sample and a great sample.  
With Backbone, your BOM templates provide a starting point to leverage dynamic libraries and organize the manual list of raw materials required to manufacture new products. Lead times, supplier contact information, style name, composition, sample measurements, fit revisions, or anything pertinent to product development will automatically populate with the component each time you add to a BOM.  
This information flows through the tech pack, so teams don't waste time looking up vital product specs, and factories aren't left to guess. Additionally, variant level data like color, weight, size, finish, and component cost are all stored at the component level and can be accessed per colorway directly in the BOM.  
Teams can create BOM templates for future products and save time in the creation process, which also helps developers weed out items that shouldn't transfer from product to product, such as hangtags, packaging, and labeling.
Size Specification 
Size specifications were another native Excel document set up through grade-rule formulas and created cell-by-cell. When using a size spec for a new product, you would find a similar spec to the one you want to create, paste the information, or repurpose the file to match the new development. 
In Backbone, teams have multiple options to create size specs and gradings for new products. The first is dynamically linking to the POM Library to create a custom spec. The POM is the systems module for creating, managing, and storing individual points of measure to use across multiple products as needed. While this allows flexibility when creating a new spec, you may want to import a fully-graded spec sheet.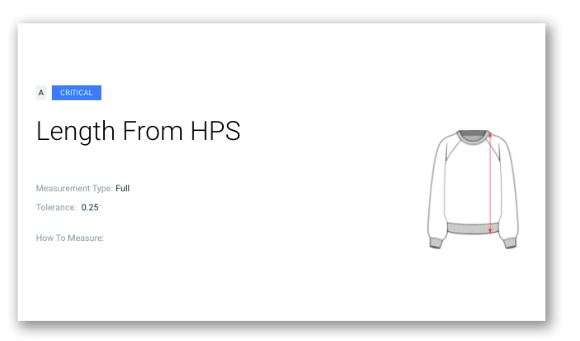 Developers can also choose to import spec sheets through our CSV import tool, which allows your team to leverage the work you have already completed in Excel and immediately populate this information in Backbone. These imported specs can be saved at the product level and exported to the Block Library for future use across similar products.

If you prefer to link to the Block Library, this only takes a few easy clicks. This feature standardizes size specifications across both core and carryover styles quickly and intuitively. Essentially, the Block Library is Backbone's module for creating, managing, and storing all graded measurements for your entire product assortment while eliminating duplicative work with dynamic, reusable values.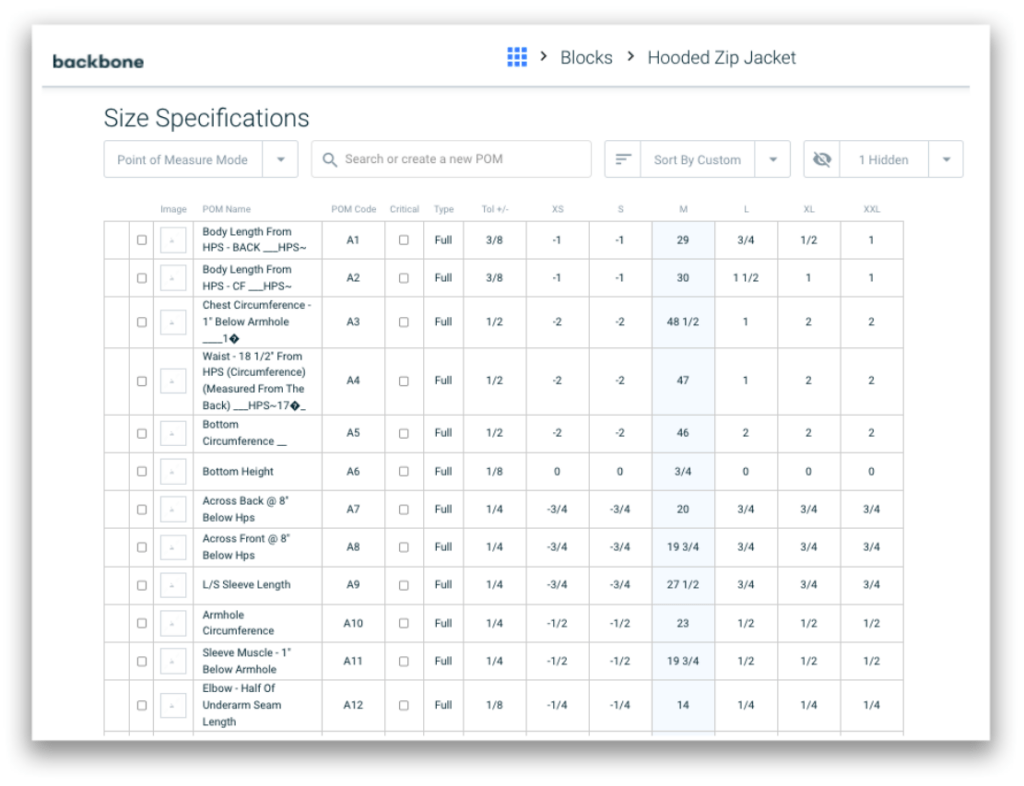 Backbone + Adobe
Backbone's Adobe Illustrator integration enables designers to create technical sketches, colorups, detailed component renderings, and other assets for product specifications. Those files are synced from Creative Cloud directly into Backbone, saving valuable time by eliminating manual uploads and product versions. Designers can also work in Illustrator to actively capture and sync changes to sketch revisions used to populate reports and tech packs through Backbone's dynamic system of interconnected libraries.
This plug-in is a tremendous relief for designers to dynamically update information when working with multiple iterations. Design teams can efficiently update sketches, colorups, and detail pages during the development process without leaving the tool they are operating in to make these visual changes. 
In Excel, design teams must save a copy of the original tech pack during each revision with updated labels. Designers persistently keep track of dates, names, samples, size specs, vendor correspondence, and so on, quickly becoming engulfed in a cloud of files. When using Backbone's Illustrator integration to manage versions, it's more instinctual to: 
Streamline the creative process and enable designers to upload files without switching between systems

Empower production teams to access and share product-related detail as it becomes available from designers 

Ensure teams always have the most current sketch iteration as they evolve throughout the design cycle

Access the complete history of all design iterations along with the date, time, and user
Dynamic Data Drives Success 
Creating tech packs in Backbone empowers creativity and provides greater visibility into your dynamic product data. A centralized system of record helps teams across the fashion and apparel industry design faster, reduce sampling, and lead a successful product development cycle.
If your brand is interested in Backbone's tech pack creation and other digital product features, explore our collection of case studies, blogs, and customer reviews to learn more.
Ready to build your brand with Backbone? Schedule a demo with a member of our team below!