Blog | Client Success
Peter Millar
How Peter Millar uses Backbone's reporting tools as a virtual sounding board
By: Team Backbone | March 18th, 2021
Peter Millar was founded twenty years ago with a single cashmere sweater. The quality behind this single initial garment — crafted by the world's best yarn spinners — inspired the brand's ethos of luxury, elegance and superior craftsmanship. Today, the brand's offering has expanded to include sportswear, tailored clothing and accessories. One reason, we suspect, for the brand's continued success over the years? Embracing core values while still changing with the times. Take the brand's adoption of Backbone: The tool has empowered the Peter Millar team to streamline just about every aspect of their workflow, from design to collaboration to approvals. 
"We were at a breaking point in terms of keeping the team motivated in the other system," says Bill Mickle, Director of Product Integrity for Peter Millar.  
Here, he takes us through a few of the core features that especially helped the brand.
1) Item masters, which help share product information — in one place, in real-time — across departments.
Before Backbone:
"We were herding cats with spray bottles. Our old system was rigid, slow, and server-based. Not image friendly or intuitive." 
With Backbone: "The item masters give a 100-mile view of all of our product data in an organized way. We treat it as a living, breathing spreadsheet, and use it as a communication tool for use across departments."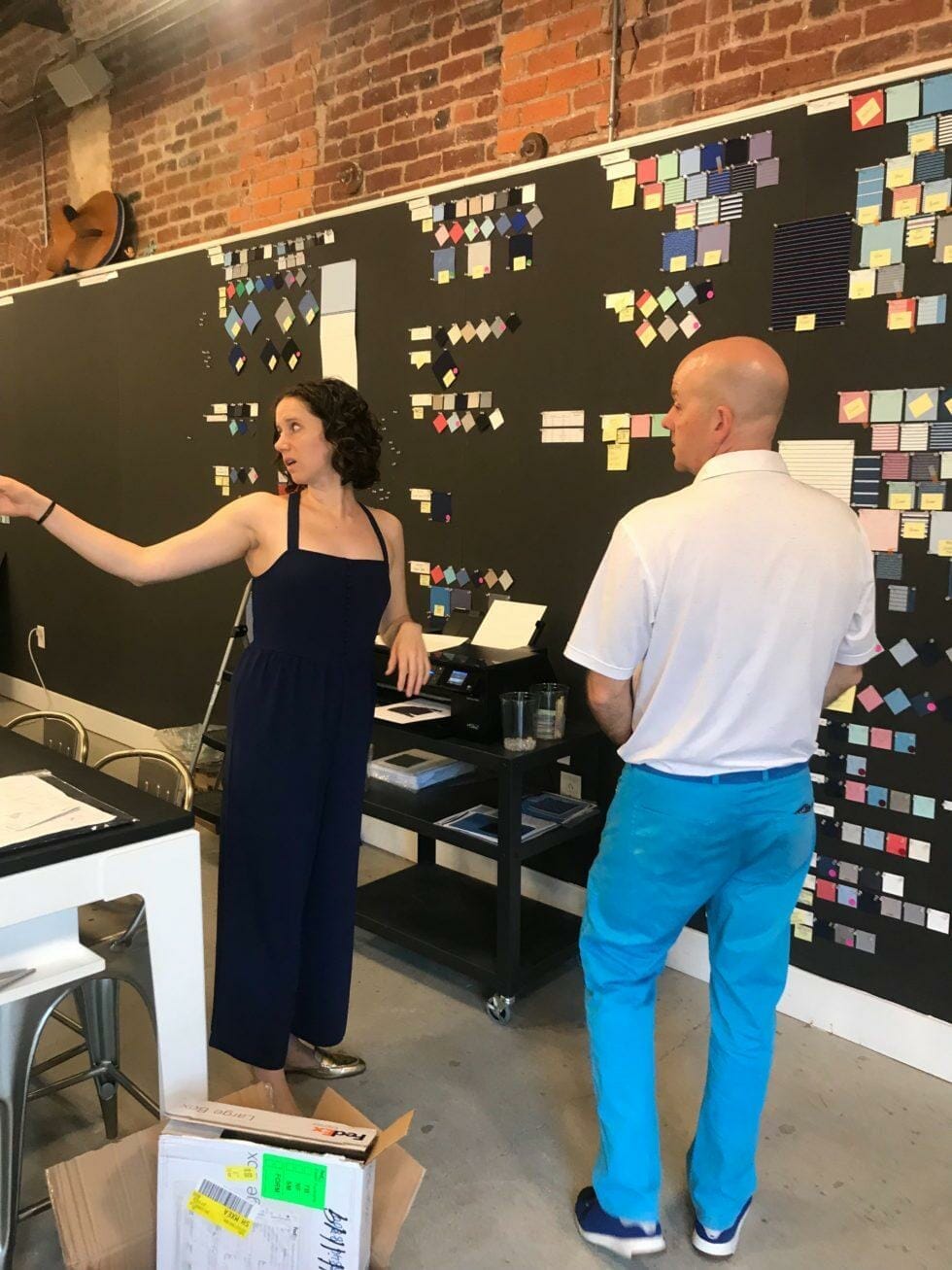 Backbone's Client Success Team on-site with Peter Millar, working through color & concepting (2018).
2) Linesheets, which transform the design cycle from a manual process to a digital one.
Before Backbone: "We were a foam core board company. Old school. We used 200 different customs systems to create swatch cards any way you want it. Time consuming, especially for a lean team doesn't have time."
With Backbone: "Now we can customize data depending on who the customer is. We even use it internally as a digital sounding board: 'Just dump your first image in here, if it gets slammed, archive it, update it.'
3) Backbone's Component Utilization Reports (BCUR), which support decision-making with easy, accurate data sharing.
With Backbone: "BCURs helps us look at component costs, where using, and if we need to adjust. If you have an expensive fabric that can be used for ten styles but not the other five, you have a way to view that quickly. We can reference historical product data to forecast materials for upcoming seasons. We can see the impact of making a decision on our bottom line — that even if it is a matter of a few cents on the micro level, could mean a lot more for the overall line / launch."
Overall?
"Finally we have a system that incentivizes people to want to live in it and do their work in it, make mistakes in it. It's not just a place where you dump things that are perfect and ready," says Bill. "It's a big jump… with a tremendous upside on the other side of it."
Want to hear it for yourself? Check out our Client Roundtable from Fall 2020 to hear first-hand how Peter Millar leverages Backbone's Reporting Tools to drive ROI:
Interested in learning more? Check out our Solutions page
Author | Team Backbone