Unlocking Fashion & Apparel Success: The Transformative Power of Retail PLM
Exciting news!🎉 We are featured in Interline's 2023 Fashion PLM Report. Our Sr. VP of Product, Jeff Fedor, sat down with the publication for a little Q&A around the transformative power of retail PLM. Get the full recap here!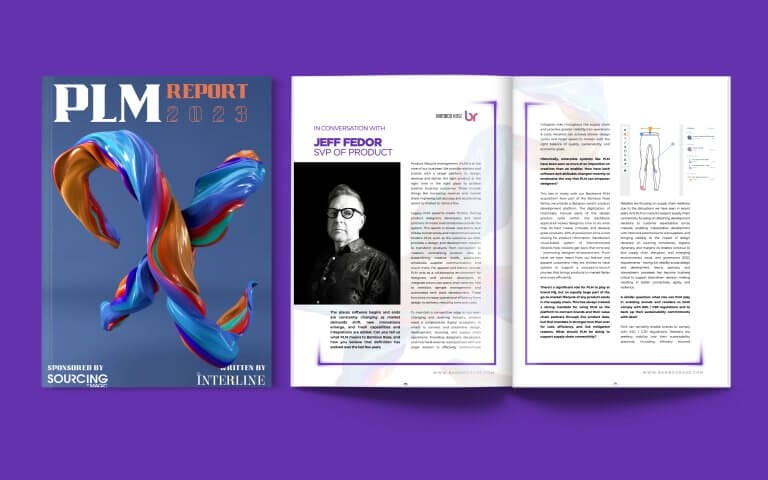 Retail PLM from our POV
In today's fast-paced and ever-changing retail industry, staying ahead of the competition requires retailers to adapt to new market demands, embrace innovations, and integrate fresh capabilities seamlessly. One technology that has been instrumental in driving success for fashion and apparel retailers is Product Lifecycle Management (PLM). In this blog post, we will explore the evolving role of retail PLM and how it empowers brands in their journey toward operational efficiency, sustainability, and market dominance.
At Bamboo Rose, PLM lies at the core of our business strategy. We provide retailers and brands with a comprehensive platform that enables them to design, develop, and deliver the right products at the right time and in the right place. Our PLM solution aims to achieve positive business outcomes, including increased revenue and market share, improved cost accuracy, and accelerated speed to market.
The Evolution of Retail PLM
Traditionally, legacy PLM systems posed challenges by creating friction and hindering collaboration. This led to slower operations, data gaps, human errors, and miscommunications. However, modern PLM solutions, such as the ones we offer, have revolutionized the industry. Our PLM empowers designers and product developers by centralizing product data and streamlining creative briefs, production schedules, supplier communication, and more. By integrating colors, size specifications, and materials, PLM acts as a collaborative environment that enhances operational efficiency from design to delivery, reducing time and costs.
Empowering Designers
Historically, PLM has been viewed as an imposition on creative professionals. However, the landscape has changed. With our recent acquisition of Backbone PLM, Bamboo Rose has introduced a designer-centric product development platform. By digitizing manual aspects of the design product cycle, our platform frees up designers' time, allowing them to focus on what they do best: create, innovate, and develop exceptional products. This acquisition has been met with enthusiasm from our fashion and apparel customers who appreciate the ability to support a concept-to-launch journey that brings products to market faster and more efficiently.
Supporting Supply Chain Connectivity
While PLM has played a significant role at brand headquarters, it is equally vital in the supply chain. PLM acts as a platform that connects brands and their value chain partners through live product data, which has become increasingly crucial for cost efficiency and risk mitigation. To support supply chain connectivity, PLM must enable collaborative development with internal and external teams, provide visibility into design decisions' impact on compliance, logistics, and margins, and facilitate data-driven decision-making for better connectivity, agility, and resilience.
Ensuring Compliance & Sustainability
PLM also plays a pivotal role in helping brands and retailers comply with ESG (Environmental, Social, and Governance) and CSR (Corporate Social Responsibility) regulations while backing up sustainability commitments with data. Our PLM solution offers detailed supplier performance and auditing data, captures the impact of different materials within products, and provides visibility into environmental and social impacts. By leveraging PLM, brands can ensure compliance, track sustainability practices, and meet consumer demands for ethical and sustainable options.
Integration and Collaboration
As a central hub for product information, PLM thrives when closely integrated with other solutions, facilitating the digitization of the entire go-to-market process. Integrations with platforms such as ERP, warehousing, planning, 3D modeling, and content providers enrich data, increase visibility, and enable faster decision-making. With our acquisition of Backbone PLM, we consolidate multiple parts of the technology ecosystem under one company umbrella, allowing us to offer a complete end-to-end PLM solution. By leveraging the unique strengths of both platforms, retailers can enhance operational efficiency, create resilient supply chains, and deliver the right products to market.
Future Role of PLM in Fashion Technology
In the near future, retail PLM's role in the fashion technology ecosystem will continue to evolve. As consumer expectations rise, retailers must meet their demands for innovative and sustainable products with agility. PLM will play a crucial role in enabling retailers to digitize their entire go-to-market process, accelerate data-driven decisions, and refine product offerings to address sustainability, compliance, and global trade management challenges. By embracing PLM as a strategic tool, retailers can drive brand loyalty, reduce returns, and thrive in the competitive fashion industry.
The Wrap Up
PLM has become an indispensable asset for retailers in today's digital world. Its evolution has transformed it into a powerful tool that empowers designers, strengthens supply chain connectivity, supports compliance and sustainability, enables integration, and drives efficiency throughout the entire product lifecycle. By leveraging PLM, retailers can meet consumer demands, achieve business objectives, and secure a competitive edge in the rapidly changing retail landscape.
About the Author
Jeff Fedor is the Senior Vice President of Product at Bamboo Rose, a leading provider of PLM solutions for the retail industry. With extensive experience in the field, Jeff is passionate about helping retailers leverage technology to streamline their operations, accelerate time to market, and drive sustainable growth.
Check out our recent PLM news:
Bamboo Rose Doubles Down on Designer Empowerment with Backbone PLM Acquisition
Interline's 2023 Fashion PLM Report